"You want to be great?
Then start with being small..
Do you want to raise a building that reaches the sky? Think first about the foundations of humility. (St. Augustine)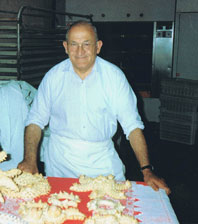 The founder of the historic Bakery Demurtas, Mr. Alfredo, passed away on Wednesday, October 8, 2014, after a period of suffered illness period . He left, but leaves to the children and also to all those who in these 60 years of activity have had the pleasure of knowing him, a beautiful memory of intelligent man, unselfish that with foresight was able to create a company that at the time was selling what never had been sold: bread and pistoccu, which was a unique production of the housewives. As defined by the journalist Giacomo Mameli,The Patron of "Su Pistoccu" , his decisive and firm character, his spirit of sacrifice, distinguished him in a time when effort was the only survival weapon. He didn't know the meaning of jealousy and this also helped him on his way, taking the example of the "big", drawing inspiration from them only for improvement. He did so much for his family, for Villagrande for the entire Ogliastra and Sardinia. In particular for the Sarrabus because it reminded him of his early years as a shepherd. For him every land was an achievement and the most important think was to work . He did so for so many years, with his wife Elvira, she also as untiring worker, created a company that always been growing . Their children and the son-in-law, who worked for twenty years at his side, are proud to have had a teacher like him. Hundreds were employees in these 60 years, the economy of Villagrande and not only had his contribution, and there's never been a supplier or an employee who left unhappy.
Mr. Alfredo left in heritage to his family education for commitment, spirit of sacrifice, perseverance, a lot of experience and invaluable presence as long as he was healthy.